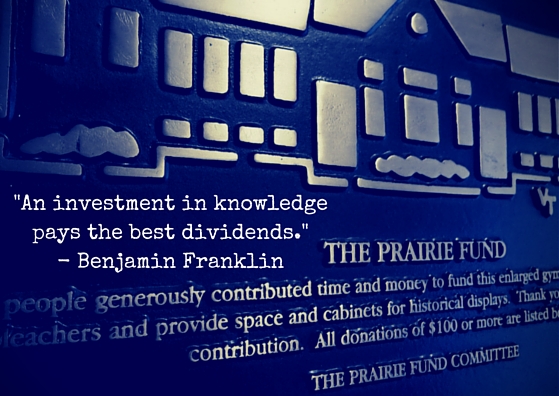 To provide resources, beyond tax funding, to stimulate excellence at Prairie by supporting delivery of special programs and services to enhance the learning environment for the children attending the school, increasing the effectiveness of instruction at the school, and strengthening ties between the school and the community.
What is the Prairie Fund's connection to the PTA?
The PTA's job is to plan and manage events to raise funds for Prairie. The Prairie Fund is the entity that houses those funds so they can be tax deductible. The PTA President-Elect sits on the Prairie Fund Advisory Committee. The two groups work closely together to raise funds for Prairie.
What did the Prairie Fund contribute to this school year?
The Prairie Fund is pays for several half-time staff positions at our school: School Counselor, Reading Specialist, and Math Specialist. Click here to learn more about why we fund these programs.  The Prairie Fund has also provided funding for the Maker's Space, water bottle fill stations, assemblies, as well as other needs brought forth by the building leadership team.
Is the Prairie Fund controlled by the school district?
No. The Prairie Fund, made up of volunteer parents, administers the funds. All monies donated to the Prairie Fund can only be used for our school. The principal is on the Prairie Fund, as well as one staff member.
How does the district influence how we spend money at Prairie?
The school district has guidelines we must follow when providing private (Prairie Fund) money to pay the salary of a district employee. For non-employee expenses, we have more discretion about where dollars are allocated.
How does the Prairie Fund decide what to spend money on?
The Prairie Fund works with the principal and sends out surveys to the staff and parents to obtain feedback on changes to funding needs. Our needs and funding opportunities change annually based on the amount of funds donated and the district's changes to education funding.
Who manages the money?
All of our funds have been managed by the Shawnee Mission Educational Foundation (SMEF) in prior years. SMEF continues to hold the majority of our donations. However, in the 2018-2019 school year, the Prairie Fund established an organizational fund at the Greater Kansas City Community Foundation (GKCCF) in addition to our SMEF accounts. GKCCF administers the funds and provides investment opportunities.
Where do I send donations?
Cash donations can be sent directly to the school or made online. Checks should be made payable to: "Prairie Fund."
Online donations should be made by going to our Prairie Fund – Donate page.
If you have services, supplies, or items of value you are willing to donate, please contact any PTA Board Member or any Prairie Fund Board member.
What are other schools doing?
Other schools have also established their own supplemental educational funds. Our Prairie Fund has served as an inspiration and template for other schools to follow.