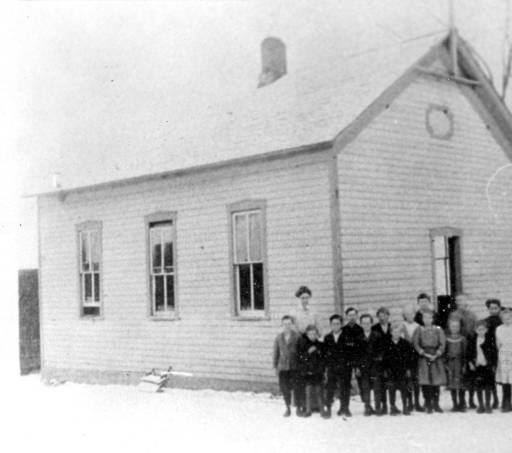 Prairie School District #44 was organized in 1865, and the first one-room schoolhouse was built in 1866 on two acres of land at the northwest corner of 63rd and Mission Road. The property was formerly owned by the Reverend Thomas Johnson, founder of the Shawnee Methodist Mission and Manual Labor School, and inherited by his son, Alexander S. Johnson. Johnson and his wife sold the land to T. A. Lewis, T. C. Porter and A. S. Johnson as District Board #44.
The school was large compared to others of its time, measuring 60 ft. long by 40 ft. wide. According to Edgar A. Porter, it was called the "Crooked School" because the building leaned slightly to the north. The building served two functions – school and church. The Westport Cumberland Presbyterian Church met here until the congregation rebuilt its church in Westport destroyed during the Civil War.
At first, the district encompassed the land from 47th Street to the present day 71st Street, State Line to Nall. In 1873, when 79 children were attending the school, the district was divided, the northern portion becoming District 92 (Shawnee Mission School). This district was later divided into the Roesland and Westwood View districts. Then in 1874, land was detached from the Corinth district and added to Prairie, making the new boundaries 59th Street to 75th Street, State Line to Nall, including a small area west of Nall. After these changes, the schoolhouse more easily accommodated the 38 children enrolled.
The school day ran from 9:00 am to 6:00 pm from Labor Day to the first of May. School was never dismissed because of bad weather. Once a year, 8th grade students had to take and pass the Common Exam if they wished to continue their education at one of the city high schools (Westport or Argentine).
Next Page,  Page 3,  Page 4,  Page 5,  Page 6,  Page 7,  Page 8,  Page 9,  Page 10,  Page 11, Page 12,  Page 13
Research conducted by Mrs. Jeanne Tapp, May 1972 (sources cited here).