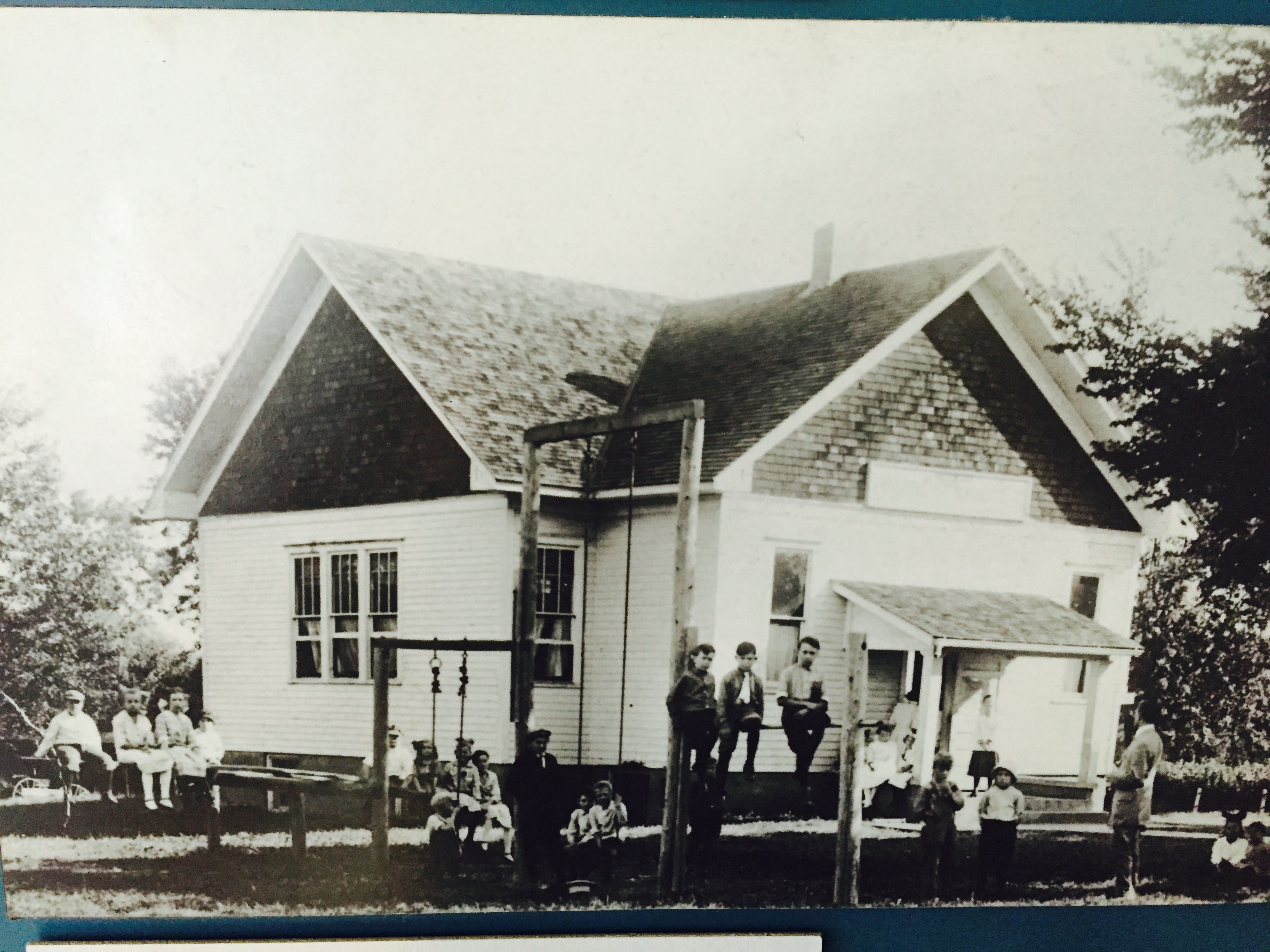 In 1882, one acre of land at 67th and Mission Road was purchased from Henry Coppock, and a new one-room frame schoolhouse was built. The property at 63rd street was sold for $80.00 and services rendered to Samuel Miles Standish, the carpenter who built the school. The new one-room white building was austere in appearance with its small, narrow windows. According to Edgar Porter, the school was heated by a big red stove in the middle of the room. Half of the pupils roasted while the others shivered. Before leaving at night the pupils put their ink bottles under the stove so the ink wouldn't freeze overnight. The school was equipped with desks, a blackboard, a bundle of switches, coal scuttle, poker and shovel, water pail and a tin dipper from which everyone drank water. The children played baseball or used the teeterboard laid across a fence rail during recess. One teacher taught all the grades and was paid $25 to $45 a month for seven months.
There were walnut, hickory nut and persimmon trees in the woods east of the school, and when the nuts and persimmons were ripe, many students were punished or whipped for playing hooky or being late to school while picking them. Northwest of the school about 200 yards away, a spring came up from under rocks. This spring was walled up to provide drinking water.
Students had more than "book learning." The Coppock children remembered one teacher, Mr. Baxter, who taught the pupils how to measure off an acre of ground by stepping it off on school property. Mr. Baxter used many teaching methods. When one pupil couldn't learn to spell "Prairie," he had the boy stare at the word as he walked back and forth between Mission Road and the School. When that method failed, he drew a square than enclosed the boy's feet and had him stand there until he learned the correct spelling. Another teacher, Miss Flanner, showed the children how to plant oak trees on the school grounds the last day of school.
In 1887, the school got new desks. The room was decorated with framed mottos, such as "Knowledge is Power" and "Never Give Up." The highlight each week was the Friday night spelling contest.
Previous Page,  Next Page,  Page 4,  Page 5,  Page 6,  Page 7,  Page 8,  Page 9,  Page 10,  Page 11,  Page 12,  Page 13
Research conducted by Mrs. Jeanne Tapp, May 1972 (sources cited here).