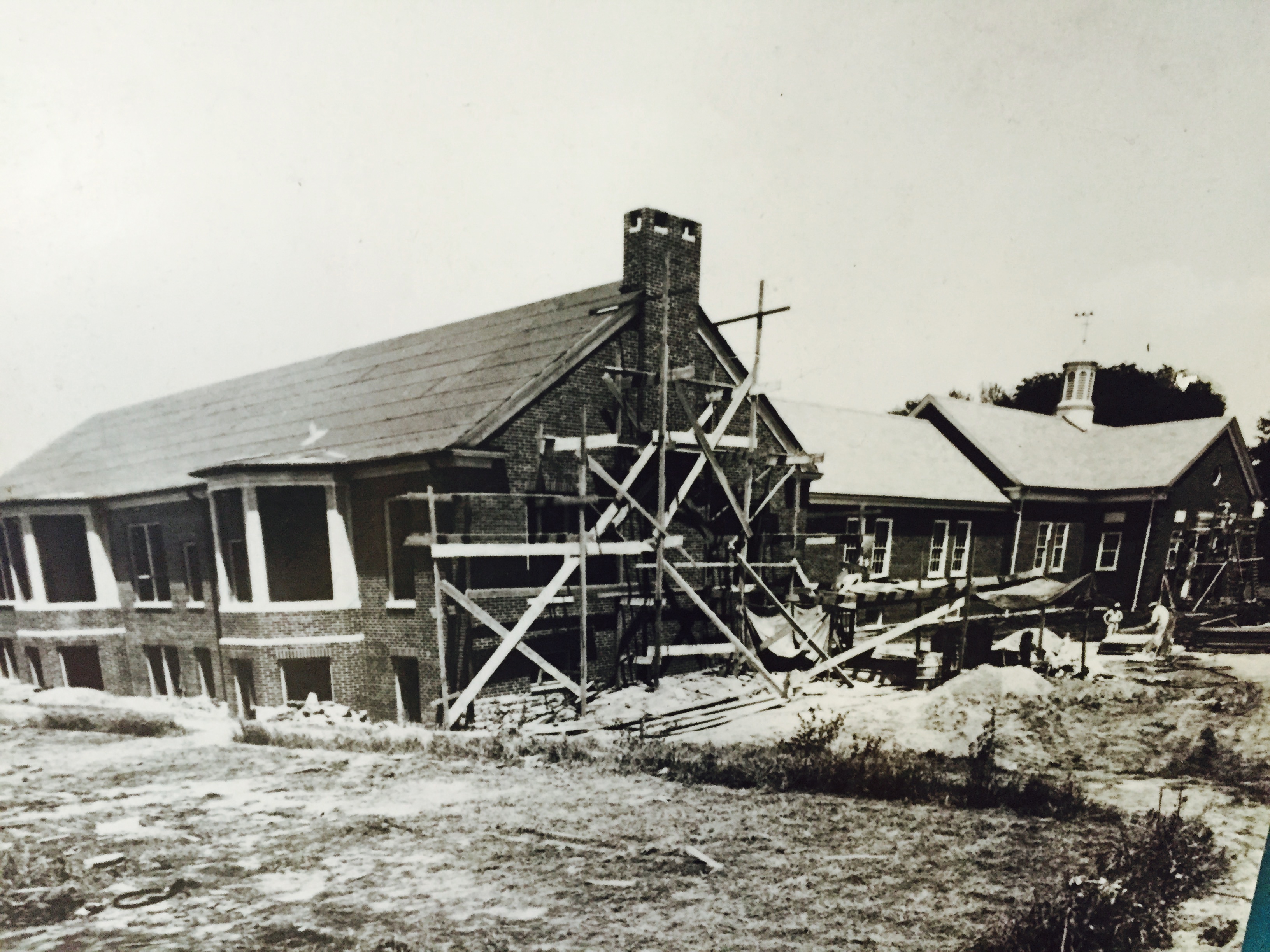 In the early 1930s, Mission Road was still a country lane running beside Mr. Porter's bull pasture, and students had to shoo off cows and pigs before they could play ball in the field. Sheep were pastured in the wooded land between Cherokee Lane and Mission Road and students used the same path and footbridge then as they do now, behind Village Church to get to school.
There were interscholastic contests in softball, and season competition and tournaments in basketball and track. The Prairie "Panthers" were supported by cheerleaders and a Pep Club.
As the population grew, so did Prairie. In 1936, construction began on a new red brick Prairie School. The school, built by the WPA and designed by Keene and Simpson architects wasn't completed until 1939. In addition to classrooms, this building had auditorium-gymnasium facilities, a book room, a cafeteria and office spaces in the front.
In 1937, Prairie's first PTA was formed (although the charter was not granted until February, 1938), with Mrs. R. Z. Smiley serving as President. The mothers prepared and delivered homemade school lunches to the school, and meetings were held at each mother's home to plan events for the pre-school group, parent-teacher luncheon, parent education courses, parent-drivers for Philharmonic concerts and room mothers. The PTA also started a Prairie art collection with the purchase of a large Van Gogh print in 1937-38.
A Prairie tradition that started in 1937 was White Christmas. An evening performance of Christmas music, directed by Violette Hembling Williams, was followed by a presentation of gifts of canned food wrapped in white – students placed these packages in front of a nativity scene.
Prairie was one of the first elementary school libraries in the state of Kansas to open in 1937. Mary Oyster, a Prairie teacher, convinced the school board of the need for a central library, where books could be used by all students. She helped plan the book room for the new building, a paneled room with a fireplace and bay window. School funds were used for buying books and furnishing the room. Miss Oyster volunteered her work for two summers in setting up the library. The Prairie teachers received help from KCMO Public Library librarians in buying and cataloguing books. A part-time librarian was hired in 1944.
Previous Page,  Next Page,  Page 6,  Page 7,  Page 8,  Page 9,          Page 10,  Page 11,  Page 12,  Page 13
Research conducted by Mrs. Jeanne Tapp, May 1972 (sources cited here).