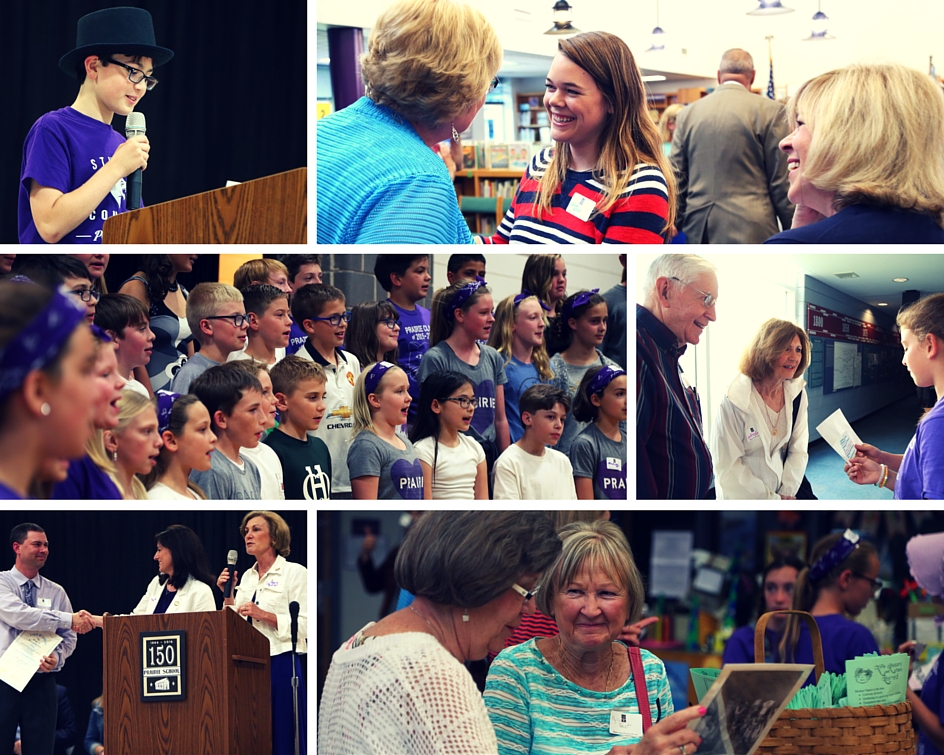 What an incredible event. Despite a rainy start, we couldn't have asked for a better turnout. We were simply overwhelmed with the number of alumni who visited us to help pay tribute to our amazing 150 year-old school.
It was touching to visit with so many of you and hear stories about your time at Prairie. Flipping through old scrapbooks, snapping photos of the artifacts, listening to 6th grade live statues and the Prairie Choir, reconnecting with old friends and listening to the speakers recount their memories of Prairie – it was all around the perfect evening.
Kansas House Representatives Barbara Bollier (a Prairie alum) and Melissa Rooker were also in attendance and presented Prairie with a congratulatory certificate of achievement for reaching this milestone.
We want to thank our incredible team who spent countless hours planning and bringing this event to life:
Heather Minor                                              Open House Event Chairperson
Ashley Walburn                                            Events Chairperson
Tricia Stephens                                             Fair Chairperson
Tessie Wissel                                                  Fair Co-Chair
Holly Grummert & Jessica Brown     Class Projects/Spirit Week
Constance Eddy & Amy Gardner       Book
Kate Johnson                                                 Marketing & Promotion
Holly Grummert & Kate Johnson      Spirit Wear
Christopher Smith                                      Photographer
And a hearty thank you to all the Prairie parent volunteers who helped us prepare and staff this event. Your generosity is part of what makes our school so unique.
All event photos can be found here: prairie150.shutterfly.com.